Marie Lys
soprano
Winner of the Competition for baroque opera Cesti 2018 and of the Concours International de Belcanto Vincenzo Bellini 2017, soprano Marie Lys sang under conductors such as Michel Corboz, Laurence Cummings, Daniel Reuss, Sigiswald Kuijken and Giampaolo Bisanti, in many festivals including Ambronay, Göttingen, Halle, La Folle Journée and Verbier. Performance venues include Wigmore Hall, Buckingham Palace and Kings Place (London), Opéra de Lausanne, Konzert Theater Bern, Centro Cultural de Belém (Lisbon), Casa da Música (Porto), Tokyo International Forum and Yomiuri Otemachi Hall (Tokyo). www.marielyssoprano.com 

Franziska Fleischanderl
salterio, artistic direction
Franziska Fleischanderl is an expert for the Italian 18thcentury salterio. She is researching the salterio's history and playing techniques, and brings its original repertoire back to life. After years of researching in Italy, she is now writing her thesis at Leiden university. She is founder and director of the ensemble IL DOLCE CONFORTO. Their two CDs "Sacred Salterio" and "Salterio italiano" were internationally reviewed and premiered. Franziska plays an original instrument from 1725, built by Michele Barbi. www.salterio.at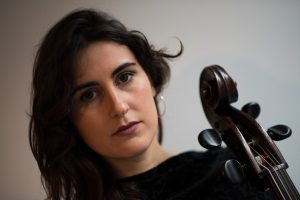 Carla Rovirosa
Violoncello
After completing her bachelor degree in Barcelona with Amparo Lacruz, she started her training in baroque cello in 2014 at the Schola Cantorum Basiliensis with Christophe Coin and Petr Skalka. Carla is active with many orchestras around Europe including the Orchestra of the Age of Enlightenment, La Cetra Barockorchester, Accademia Barocca Lucernensis, Nordic Baroque Orchestra and Academia Montis Regalis, among others. She has performed with outstanding musicians such as Amandine Beyer, Andrea Marcon, Sir Simon Rattle or Andreas Bötticher and taken part in festivals including Innsbrucker Alte Musik Festival, Ryedale Festival in England and Barokkfest in Trondheim.
Lukas Henning
archlute
Lukas Henning studied Lute and Theorbo under Hopkinson Smith and received additional teaching from various influential scholars and performers such as Crawford Young, Jesper Christensen or Anthony Rooley. Since 2011 Lukas Henning has been performing throughout central and northern Europe. His video project me:mo presents music and art history in their cultural context to a wide public. www.musicamemo.com

Deniel Perer
organ, harpsichord
Deniel Perer studied organ and harpsichord with Lorenzo Ghielmi, Jörg-Andreas Bötticher and Andrea Marcon. He further attended courses of improvisation, basso continuo and fortepiano. Deniel is also active as composer of music in the baroque and classical style. He was awarded several prizes in organ and harpsichord competitions, like the "Principe Francesco Maria Ruspoli" and the "Paul Hofheimer" prizes. He made CD recordings for Diastema, Christophorus, Outhere and Sony DHM. Deniel deals also with the maintenance, construction and restoration of organs and other keyboard instruments.